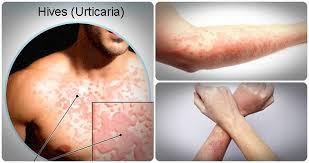 Urticaria is a fleeting skin problem. It causes immense distress till the time it lasts. In most cases, it gets better in a couple of hours on its own. But while it lasts, it causes a lot of itching and burning. The problem may be so intense for those moments that one is forced to scratch hard with sharp objects.
What are Hives or Urticaria or Nettle Rash (छपाकी क्या है)
Have you ever suffered from Urticaria or Hives or Nettle Rash? For those who may not know about it, Urticaria or Hives or Nettle Rash, as it is sometimes called, is an allergic skin disorder. It is also sometimes called nettle rash. That is because the rash caused by urticaria itches like that after touching a nettle plant.
This allergic reaction may be due to a number of things. Often it is difficult to pinpoint the exact thing that causes this allergy. In Hindi, urticaria is also known as Chhapaaki or Pitti (छपाकी या पित्ती ). The wheals that are formed are often referred to as Chakatte ( चकत्ते ).
Urticaria Symptoms or Nettle Rash symptoms (छपाकी या पित्ती के लक्षण)
Urticaria is characterized by the formation of reddish swellings (चकत्ते ), bumps or patches on the skin, most likely as a result of an allergy. The eruptions may be small in size or big and may join together to form plaques. The seat of the eruptions may vary from the face, arms, legs, back to chest. These eruptions tend to appear all of a sudden without any warning. There may be slight itching on any part of the body. Once the patient scratches the affected area, eruptions appear. Such eruptions may disappear after some time or even last for long in some cases.
What causes Urticaria or Hives or Nettle Rash (छपाकी  या पित्ती के कारण)
As mentioned in the beginning, urticaria is caused by an allergy. This allergy can occur after coming into contact with a number of possible things. All these possible allergens are normal and commonly seen or used products or even natural substances.
The immune system of an affected person may respond abnormally to the presence of a substance which is otherwise completely harmless. It is just the immunity of the individual that has gone into overdrive. It starts considering some natural or normal things as invaders and reacts abnormally.
Treating Hives or Urticaria naturally or home remedies for Hives (छपाकी या पित्ती का इलाज)
There are a lot of wonder cures floating around on the internet which are supposed to treat hives naturally. The feedback that we have got from patients who have used such so called natural treatments for urticaria has not been encouraging at all. Some cases do get some help but that is more sporadic in nature and one cannot say with confidence that the thing which worked for one patient will work for others.
The only thing which seems to have given consistent relief to most of the patients is the application of Coconut oil on the affected part. Regular application of coconut oil and that too multiple times in a day has shown some benefit to the patients. It helps in relieving itching on the affected parts. It has been known to have some medicinal effects too which help in reducing local inflammatory response.
Homeopathic treatment of urticaria or hives (छपाकी या पित्ती का होम्योपैथिक इलाज)
Coming to Homeopathy treatment of Hives or Urticaria, it has shown consistently good results over the ages and that too all over the world. This has been the experience of patients all over the world and at the hands of Homeopathic doctors all over the world. This has been our experience too in the last 2 decades. The results have been consistently good and patients get completely cured. Even in the most severe and chronic cases, the results have been most encouraging.
In my practice, I have been hugely successful in helping patients get rid of this irritating problem. Most of the patients had been getting these urticarial eruptions for months on end and had been using anti allergic medicines for a long time but with only temporary relief. All of the patients were cured in a short period of couple of months of regular homeopathic treatment. Once the hives were cured, there was no recurrence even after all homeopathic remedies were stopped. To top this, you have the added assurance that these natural medicines for urticaria are completely safe and do not have any side effects at all. Also, these medicines are not habit forming and once cured, you will not need to take any medicine at all.
 5 Best Homeopathic medicines for Urticaria or Hives (छपाकी के लिए ५ उत्तम होम्योपैथिक दवाएँ)
After dealing with hundreds and hundreds of cases of hives, I have compiled a short list of 5 homeopathic remedies for urticaria. These homeopathic remedies have served me and my patients well. This does not mean that other remedies are not used or that just these 5 homeopathic medicines will be sufficient to deal with all cases of urticaria.
Here are the 5 best Homeopathic medicine for hives or Urticaria
Apis Mellifica -best homeopathy medicine for urticaria with burning and stinging

Astacus Fluviatilis – best medicine for hives with liver symptoms

Dulcamara – best treatment for urticaria aggravated by cold

Ledum Pal – best remedy for urticaria on legs

Natrum Mur- best homeopathic remedy for hives triggered by sun
I just want to tell you that in my experience, I have seen very good results from some Homeopathic medicines. So these 5 best Homeopathic medicines for hives have been compiled into a list for your benefit, purely out of my first hand experience and not just bookish knowledge. Here is a brief description of the symptoms that indicate these medicines. –
1. Apis Mellifica – One of the best Homeopathic medicines for Hives or Urticaria with burning and stinging (एपिस मैल – जलन के साथ छपाकी या पित्ती के लिए उत्तम होम्योपैथिक दवा)
This is one of the best homeopathic medicines for urticaria. In fact, it is the most commonly prescribed one when it comes to the treatment of urticaria. The characteristic symptoms of this medicine happen to be the burning and stinging that accompanies the eruptions. There is redness and swelling as from the sting of a honey bee. Heat is intolerable and most of the times, the eruptions are caused or are aggravated by exposure to heat in any form. The patient is usually thirstless. The slightest touch can cause itching and burning.
2. Astacus Fluviatilis – Best Homeopathic remedy for Urticaria or Hives with liver symptoms (एस्टेकस – लिवर के लक्षणों के साथ छपाकी या पित्ती के लिए उत्तम होम्योपैथिक दवा)
It is also a very effective homeopathic remedy for the treatment of urticaria-both acute and chronic. The whole body gets affected by rashes. It is a very good medicine for urticaria that accompanies any liver disease or symptoms related to the liver. There is sensitiveness to air and eruptions are aggravated by uncovering.
3. Dulcamara – Best Homeopathic medicine for Urticaria or Hives or Nettle Rash triggered by cold (डल्कामारा  – ठण्ड से बढ़ने वाली छपाकी के लिए उत्तम होम्योपैथिक दवा)
When the problem is triggered by exposure to cold air or dampness or wet weather, Dulcamara is the best Homeopathic medicine for urticaria. Indiscretion in diet or taking sour food can also trigger the eruptions. There is redness and itching of the skin, though the skin is often dry. In females, the hives may be aggravated around the menstrual periods.
4. Ledum Pal – One of the best Homeopathic remedies for Hives or Urticaria or Nettle Rash on legs (लीडम पाल – टाँगों  पे होने  वाली छपाकी के लिए उत्तम होम्योपैथिक दवा)
The eruptions are more likely to concentrate on the feet or the legs ie the lower part of the body. It may spread from the lower part of the body to the upper part later on. Itching increases on scratching and from warmth of bed. The patient feels better from cold and by putting the affected part in cold water. When such symptoms are seen in a patient, Ledum Pal is the best Homeopathic medicine for Hives or Urticaria.
5. Natrum Mur- Best Homeopathic medicine for Urticaria or Hives triggered by sun (नैटरम मयूर  – धूप से  होने  वाली छपाकी या पित्ती के लिए उत्तम होम्योपैथिक दवा)
Natrum Mur, a remedy prepared from the common salt, is one of the most frequently used natural homeopathic medicines for urticaria. The eruptions are red and oedematous in character. There is intense itching of the skin. Exposure to sun can easily trigger the itching and eruptions. Another factor that can cause the eruptions is exercise or any sort of exertion. The skin is usually oily or greasy. The eruptions are more likely to be around the bends of joints or at the margins of hair.
FAQs on Urticaria treatment in Homeopathy
Is there any homeopathic medicine for chapaki allergy or chapaki disease?
Chapaki allergy or chapaki disease is just the Hindi name of Urticaria. As mentioned above in the article, chapaki disease or chapaki allergy is perfectly treatable with Homeopathy.
Are the urticaria homeopathy medicines safe?
All the homeopathic medicines are perfectly safe and do not have any side effects.
Which is the best medicine in homeopathy for urticaria?
Homeopathy works on the principle of matching of symptoms of the patient and that of the medicine. When the symptoms of the patient match with that of a particular medicine, that medicine automatically becomes the best for the particular patient.