By Dr Harsh Sharma, DHMS, BHMS
Published February 2, 2017, Last updated January 5, 2019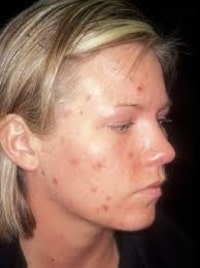 A skin problem that affects the teenagers the most happens to be acne. This is true for both boys and girls. Before we come to the homeopathic medicines for acne, let us understand a bit about acne.
Although the problem starts early in the teens, it is not necessary. Sometimes, the problem surfaces only in the late teens. Normally, the acne gets better as a person gets out of the teens.
Here we are referring to simple acne only. There is a different condition in which one sees pimples only in the case of girls, namely PCOS. This is a different underlying disease in which there are cysts in the ovaries which can cause pimples. In PCOS, pimples can start even after the teenage and continue well into the thirties. This does not happen in simple acne.
What is Acne
Acne is a skin condition in which reddish eruptions are prominent. Face is the more common seat of these eruptions. We often call them pimples. These pimples may also be present on the chest, back and shoulders. Pimples form when the oily secretions from the sebaceous glands stop the pores of the skin. These stopped pores then develop into reddish and swollen pimples.
Which age group is more affected by pimples
Pimples most commonly affect the teenagers. In most of the cases, the acne goes off as age progresses. This does not happen in all cases. In some people, the acne persists even into the thirties. As mentioned earlier, when the pimples are due to PCOS in females, it may start even in the twenties and persist till the underlying problem is cured.
Acne Vulgaris or Pimples in Teenagers and its effects
Acne can be a source of great distress to youngsters. This is the age when one is most conscious about one's looks. This is all the more true for girls. When all sorts of eruptions, big and small, blackish, whitish or reddish in colour, dry or pustular in nature cover the face, it is natural for the teenagers to worry. It becomes all the more troublesome because there is no easy and quick solution.
Patients often resort to picking on the pimples and breaking them, but it is only counter productive. This can leave scars. One often overlooks the psychological effect of this problem which is otherwise almost harmless. The teenagers tend to lose self esteem and their confidence. In some cases, they even tend to avoid going out and being in the company of people lest someone passes a remark on their facial appearance.
Cause of  Pimples or Acne Vulgaris
The causes of pimples or acne may be varied and multifarious. Mostly, it has to do with the hormonal changes that occur in this age.
The human body undergoes a lot of hormonal changes during this period of growth, both in boys and girls. This increased activity of hormones is to partially blame for the facial eruptions.
Another common factor that one by and large overlooks is stress. Teenagers undergo a lot of stress for various reasons. Studies may be a common cause. The pressure from parents and society to perform well in studies and life is immense.
Another reason may be the role of peer pressure. The present environment is becoming more and more materialistic. The children also aspire to have what their friends have. When the parents cannot afford the demands of children, this can give a lot of negative feelings.
At the same time, one cannot overlook the role of diet. Intake of junk food, spicy and oily food is also important.
Some youngsters have oily skin. This allows a lot of grease and dust to collect on the face and cause pimples.
Managing Acne- Dos' and Dont's for Acne Vulgaris or Pimples
It is important that one should make a few changes to one's diet and lifestyle.
Taking a lot of water can be a big help. Water is one of the best detoxifying tool.
At the same time, taking a lot of fruits and vegetables is advisable.
One should also make sure that one avoids junk food, oily and spicy things as much as possible. One should avoid all sorts of processed foods. It is better to stick to natural foods.
Washing one's face with plain water also helps. This will help in washing off the germs, dust and the oil that sticks to the pores of the facial skin.
Homeopathy for Acne or Pimples is the best treatment for pimples
Homeopathic medicines are far superior in giving results when it comes to the treatment of acne. Homeopathy does not resort to the use of any quick fixes. The intention is to correct the underlying causes. This allows the things to settle down on their own and without the need for any strong medicines. It does take some time to get things in order, but once the results start coming, there is no looking back. The problem is cured once and for all.
Here one may add that even the scars left on the face from old pimples can be cured easily with Homeopathic medicines for acne scars or pimple scars. I often get cases where the pimples or acne have left permanent scars on the face. There are a lot of homeopathic medicines that not only cure acne but provide exceptionally homeopathic treatment for acne scars. One can safely say that homeopathic treatment for acne or pimples is the best treatment for acne or pimples.
Homeopathic treatment for acne – the 5 best Homeopathic medicines for Acne or Pimples
Here is a list of 5 best homeopathic remedies for acne or pimples that are pretty effective. I have personally used these remedies on hundreds of patients. They have provided very good results and continue to do so in my daily practice.
The 5 best Homeopathic medicines for acne or pimples are –
Pulsatilla- best homeopathic medicine for pimples due to rich food

Hepar Sulph – best homeopathic medicine for acne with painful pimples

Silicea – best homeopathic medicine for acne with pus

Natrum Mur – best homeopathic medicine for pimples with oily face

Nux Vomica- best homeopathic treatment for pimples with gastric disturbance
The key to getting a complete cure is the selection of the right medicine, the right potency, the right dosage and a bit of patience on the part of the patient. The selection of the right medicine, the right dosage and right potency is a tricky task and requires a lot of study and experience of the doctor. It makes sense to get oneself treated from an experienced Homeopathic doctor and not resort to self medication.
1. Pulsatilla-One of the best Homeopathic medicines for Pimples or Acne due to rich food
It is very effective in cases where the culprit is the increased intake of rich food. This may be in the form of junk food or other things like cakes, pastries and ice creams. Pulsatilla is also more often indicated in girls, more so with menstrual irregularities.
The patient is usually sensitive to heat and all troubles get aggravated in summers. There is little thirst. One tends to feel better in open air. When the above mentioned symptoms are present, Pulsatilla is the best homeopathic remedy for pimples or acne.
2. Hepar Sulphur- One of the best Homeopathic medicines for Pimples or Acne with painful eruptions
In cases where the eruptions are painful and more in the form of boils or abscesses, Hepar Sulphur is one of the best homeopathic medicines for acne. The patient is quite sensitive to cold as well as pain. There is increased perspiration.
The mental symptoms are also quite useful to indicate the remedy and are more commonly in the nature of anger and irritability at the slightest cause. The patient is often chilly and is unable to tolerate cold weather and cold temperature.
3. Silicea-One of the best Homeopathic remedies for Pimples or Acne with suppuration
In cases where suppuration or pus formation is the norm, Silicea is one of the best homeopathic remedies for acne. There is formation of pus in the pimples and this pus tends to be offensive. The patient tends to be worse in cold and cannot tolerate cold in any form.
The skin troubles too tend to be worse in winters. He wants warmth at all times. There is profuse perspiration, more so on the head. The skin is delicate and pale.
4. Natrum Mur- One of the best Homeopathic medicines for Acne or Pimples with oily face
In cases that result from the increased secretion of sebum or oil, Natrum Mur is one of the best homeopathic medicines for acne. The face remains oily and greasy. The patient is usually thin and weak. He feels and looks emaciated even after eating well.
Anaemia is a common concomitant. Sun and heat aggravate all the symptoms. The patient is usually fond of eating salty food or tends to add more and more salt to his normal food.
5. Nux Vomica- One of the best Homeopathic medicines for Acne or pimples with gastric disturbances
In cases where acne may have resulted from or is accompanied by gastric disturbances, Nux Vom is one of the best homeopathic medicines for acne. The skin is red and blotchy in appearance. The patient is usually fond of tea, coffee and other stimulants.
Excess of spicy food and stimulants may have caused some gastric derangements. Constipation is usually present along with other symptoms. There is increased sensitivity to cold. The temperament is such that he gets angered and irritated easily.